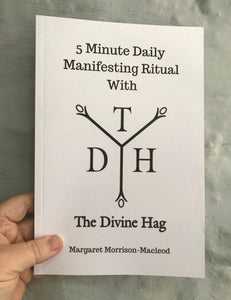 The Divine Hag Ltd
5 Minute Daily Manifesting Ritual Journal
Regular price
£4.50
£0.00
Unit price
per
Tax included.
To manifest your dreams you must first organise your mind.
Anything a human has ever built was first created in the mind.
Do this 5 minute manifestation daily.
As your mind is aligned with your desires daily, your body, emotions and energy will all become aligned in the same direction.
When you keep all these things focused on your desires consistently over time, you can manifest the reality you desire.
You are the creator of your reality.
You deserve what you desire.
Also available on Amazon
https://www.amazon.co.uk/Minute-Manifestation-Divine-Hag-Journal/dp/B09X529KQG/ref=sr_1_3?crid=3B6L4N7VR1AXU&keywords=Margaret+Morrison+-+Macleod&qid=1664914232&qu=eyJxc2MiOiIxLjIzIiwicXNhIjoiMC4wMCIsInFzcCI6IjAuMDAifQ%3D%3D&s=books&sprefix=margaret+morrison+-+macleod%2Cstripbooks%2C71&sr=1-3
---